There's no better way to show your love and appreciation for Mom than with a handmade knitted gift from the heart. And with Mother's Day less than 2 weeks away, it's time to start knitting! To help you get started, we've compiled some of our favorite patterns for knitted cowls, shawls, and jewelry that are perfect for Mother's Day in our 12 Free Knitting Patterns: Gifts Mom Will LOVE.
Does Mom love everything with a little bling? Then this beautiful beaded cowl is perfect for her! Made with a simple knit/purl pattern, this is an easy pattern for beginners or a quick knit for more advanced knitters.
This gorgeous lace stole will certainly make your Mom feel so beautiful. With an easy 4 row repeat pattern with written and charted instructions, you can knit this beauty up in no time!
With only 3 stitches to know and only three rows to remember, there's no reason why you shouldn't make this cute shawl! Made in a fun variegated sockweight yarn, there's no end to the color possibilities!
The beauty of this lovely cowl is its no-fuss knitting. You can choose to follow the pattern or customize it by changing your needle size, yarn material and yarn size for a gift that's perfect for Mom. We love unlimited possibilities!
Even if you're not the fastest knitter, you can still finish this lovely shawl in under a few days. The 8-Hour Shawl has a simple 4-row pattern and can be made in any of your Mom's favorite colors. What could be better?
This garter stitch cowl is the perfect example of simplicity meets luxury. Made using two-strands and knit in the round, this chic cowl is a quick knit and sure to be loved.
Not sure if you want to make a scarf, a shawl, or a throw? You can make any one or all three with this pattern! Plus, the 4 row pattern is easy to memorize and perfect if you've been wanting to try lace knitting for the first time.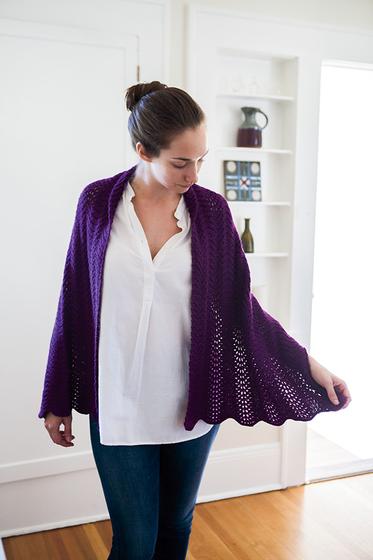 Love lace as much as we do? If you know how to read charts, then this lovely project will be a cinch for you. If you don't know how to read charts, now is the perfect time to learn! The pattern isn't a difficult one and once you find your rhythm, it'll be perfect to Knitflix and chill.
This lilac lovely makes for beautiful knitting. With an easy pattern of knit stitches, yarn overs, bind offs and repeats, any beginner could easily tackle this project. Any Mom would just love this!
Looking for a quick knit gift for Mom? This easy mask is knit with size 10 US needles and in chunky yarn so you'll be done in a flash. Great for Moms who love a quick nap or for ME time!
If Mom loves bracelets, then these cute knitted bangles will make a great gift. Knit in stockinette stitch and with no worries about gauge or yarn, these are the perfect knitted gift! Plus, they are great stash busters.
Another great stash buster, this seed stitch bracelet is perfect for any Mom. Knit with sizes 4 US and 6 US needles and with only a single row pattern to remember, you will be finished in no time. Knit Mom one in every color!
Planning to make a gift from one of these fabulous patterns? We'd love to see what you're making! Share a pic and/or a comment!