If you're looking for a beginner knitting project, knitted scarves are a great place to start. This collection, filled with easy scarf knitting patterns made from simple knits and purls, will surprise and inspire you. Take a look!
The patterns in this collection are not my own. They've been freely shared by amazing designers. If you have questions about a specific pattern, please contact the designer directly.
If you're looking for a fun triangular scarf knitting pattern, this is a lovely one.
To create this unique design, the pattern calls for alternating two sport weight yarns. One solid color and one variegated yarn give this scarf its personality. Without question, this triangle scarf's potential for color possibilities are endless.
According to the designer, Andra Asars, both sides of this scarf are wearable. Just look at those welts. Don't you just love that ridged texture?
This diagonal scarf knitting pattern from Berroco is perfect for beginners. Knit in super bulky yarn with easy knit and purl stitches, you can make this scarf in no time.
With only easy knits and purls, why wouldn't you knit this scarf?
This violet striped beauty from Fairmount Fibers is the result of knitting in seed stitch with five alternating yarns. You heard right, five. The pattern comes alive from this contrast.
Seed stitch knitting is simply knits and purls so if you know these basics, you can make this scarf. The only other technique you'll need to learn is how to make a square knot.
Knit with a merino and silk blend in fingering weight on larger needles, this seed stitch scarf is a luxurious piece. Isn't it amazing what knits and purls can do?
Looking for a scarf pattern that's a little more delicate? Then this lace scarf knitting pattern might be for you.
Knit in DK weight yarn, it has a moss stitch edging and five panels of pattern repeats. If you know your knitting basics, and how to knit through the back loop, you can knit this scarf.
It's an easy lace scarf knitting pattern for beginners.
Whether or not you are an avid Dr. Who fan, you're sure to find this creative and colorful scarf knit worthy.
Knit in DK weight yarn, it's uniqueness comes from repeated cast offs in rows. Otherwise, this is a great knitting scarf pattern for beginners.
With only knits, purls, and a cable cast on to know, any beginner knitter could knit this.
What I love about rib knit scarves is how timeless they are. This beginner's scarf is no exception.
You simply work this knit two purl two ribbing (also written as knit 2, purl 2 or K2,P2) pattern until you have knit your desired length. It doesn't get any simpler than that.
Knit in bulky yarn, you'll see results quickly, too. A thrill for any knitter.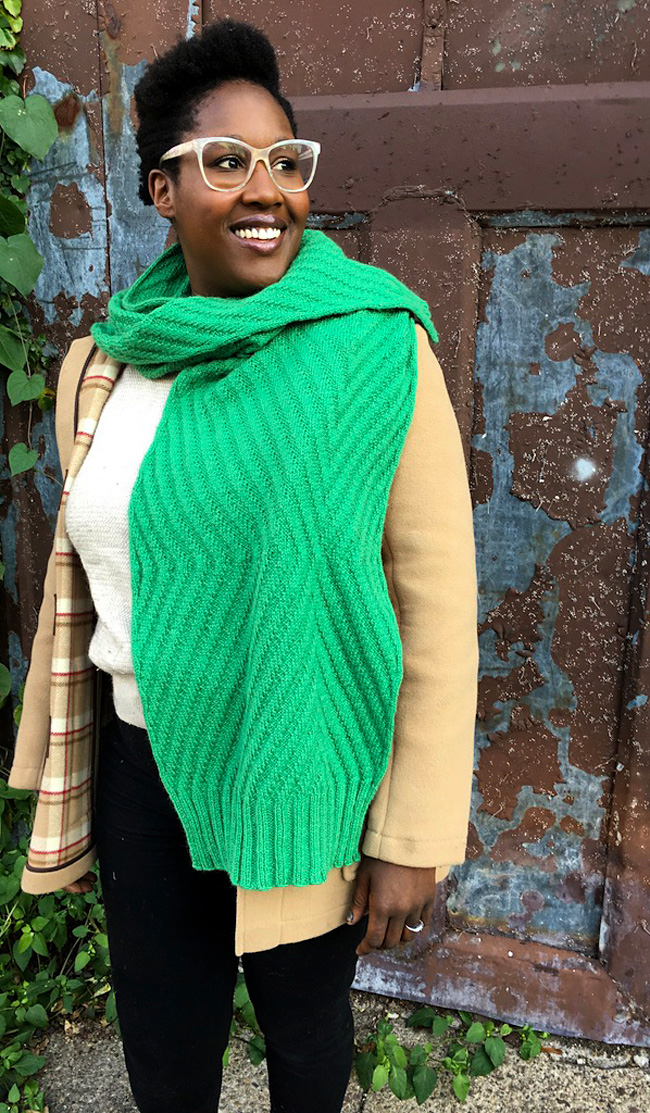 If you like your scarves to be interesting and eye-catching, this Grayson scarf from Knitty.com is for you. Designed by Leah McGlone and knit in sport weight yarn, this scarf is full of texture and personality.
This hand knit scarf comes with written and charted instructions. If you can knit and purl, you can make one of your own.
The beauty of this lacy scarf knitting pattern is in its simple lace pattern and split color design.
Knit with fingering weight yarn in a luxurious merino and silk blend, this women's knitted scarf has beautiful drape.
Want to make your own? You'll need to know how to knit, purl, ssk, and make yarn overs. This free knit purl pattern also comes with both written and charted instructions.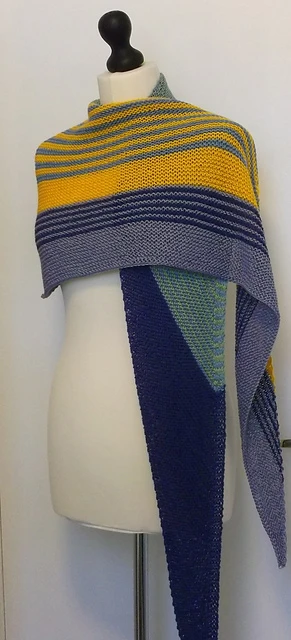 Here's a vibrant triangle scarf knitting pattern that you'll love. You'll need 5 skeins of Cascade Ultra Pima Fine in 5 different colors. With Cascade's wide selection of yarn colors, it may be difficult to choose.
The yarn itself is a sport weight yarn made with 100% cotton, which is lightweight and breathable.
Learn all about Knitting with Cotton Yarn.
To make this easy bias knit scarf you'll need to know how to slip slip knit (SSK) and knit front and back (KFB). The pattern has written instructions and only requires knowledge of how to knit in garter stitch.
Looking for a men's scarf knitting pattern? This classic, reversible ribbed scarf might do the trick.
Knit in worsted weight yarn, and with an easy to memorize knit purl pattern, you can make this men's ribbed scarf in no time.
This makes a great knitting project when you're on the go.
This men's scarf knitting pattern in worsted weight is the epitome of style and simplicity. Knit on size 10 straight needles and with an easy 4-row repeat, there are no hidden punches behind this pattern.
While it is a considerably longer scarf (nearly 7 ft. long), don't let that deter you from knitting this beauty. You can always customize it to your taste.
This easy knitting pattern takes complete advantage over self-striping sock yarn and we're glad it does.
It requires only one skein of fingering weight yarn, less than 500 yards. So if you've got that one lonely skein in your stash, you now know what to do with it. With colors such as these, it'll be a fun knitting project.
To knit this scarf, you'll need to know how to knit the basics, i.e. how to knit and purl. It also requires one increase technique, a yarnover (yo), and one decrease technique, a sl2-k1-p2sso. The pattern includes written instructions and details on the techniques used.
Knitter's Guide on How to Read a Knitting Pattern
This simple knitting project is perfect for knitters of any experience level.
If you're looking for an easy knitting project that will impress your friends and family, this is it.
This two-tone textured scarf is fancy in its simplicity. If you can knit and purl, bind off, and pick up stitches, you can make this scarf. And who wouldn't want to?
Knit in a blend of merino and cotton, this reversible scarf would work well at any time of year. This free scarf knitting pattern has only written instructions.
If you love your scarves to have lots of texture, you'll love this basket weave knitting pattern.
Knit using three patterns - diamond, diagonal, and basket weave - this is the perfect knitting project for beginners. You'll only need to know how to knit and purl, k2tog, and kfb. Easy right?
This chunky knit scarf knits up quick with size US 10 needles. It also includes both written and charted instructions.
And since it's knit in a luxurious alpaca blend, it'll be so soft to wear.
If you want an easy scarf knitting pattern for beginners, this one is worth your time. So simple but so elegant, you'll want to knit one in every color.
If you can knit and yarn over, you can make this gorgeous oversized scarf. Hard to believe, right?
It's made in a worsted weight cotton blend which is great for any time of year. Plus, the written instructions provide you with the option of making it a scarf or a wrap.
So make it what YOU want...but definitely knit this scarf!
Here's another triangle scarf you'll love.
This beautiful scarf is made by holding two strands together in lace weight yarn. The yarn colors are graduated which gives it such a lovely ombre effect.
Overall, it is a very simple scarf knitting pattern for beginners. You will need how to make M1L and M1R increases to knit this scarf. Otherwise, it has a simple pattern repeat and includes written instructions.
---
We hope you enjoyed these easy knitting projects for beginners. The question is, which will you knit first?