The winter months are all about layering and looking fabulous. So why not consider adding a great and stylish knitted cowl for those cold, winter days? This collection has easy cowl knitting patterns for every kind of knitter in every kind of weather. Take a look and get inspired.
Just a quick note. These patterns are not my own designs. If you have questions about a particular pattern, please contact the designer directly.
---
Been looking for an infinity scarf knitting pattern with straight needles? Here it is!
Knit flat with a garter stitch border, this DK scarf knitting pattern is easy to make, too.
The stockinette pattern uses four colors and four skeins of yarn in Madelinetosh yarn. When you're done, just seam the ends to create an infinity scarf.
Read All About Knitting Needle Types
I don't know about you but I love a good striped scarf. I'm adding this to my project list now.
This easy garter stitch cowl from Bernat yarn is a great knitting project for beginners. Knit with size U.S. 15 (10 mm) knitting needles, it uses two balls of super bulky yarn in Bernat Dazzle.
Then, you'll need to knit and seam. Make it for yourself or as a quick knit gift.
If you've been looking for a way to use those mini skeins of yarn, this easy ombre knitting pattern is for you.
Knit in fingering weight Sweet Georgia yarn, you'll need about 550 yards of varying colors. Want something chunky and cozy? You could easily modify the pattern and knit with a heavier weight yarn.
Check Out Our Yarn Weight Chart in Our Knitting Gauge Guide
The written pattern alternates between garter stitch, stockinette stitch, and an easy slip stitch texture. You'll also need to know how to knit in the round and make yarn-overs. Easy peasy.
Learn All About the Art of Slip Stitch Knitting
If you're looking for an easy cowl knitting pattern for circular needles, The Cowl might be the one. This chic accessory was a big hit at Vogue Knitting Live 2019 in NYC. By popular demand, the free knitting pattern has been made available to you.
This knitted neckwarmer is knit in the round using three strands to knit – one worsted weight and two fingering weight yarns. This gives you endless color possibilities! Our favorite kind of knit.
Read More: How to Cast on to Knit in the Round
Here's another easy cowl knitting pattern for beginners. Knit flat with straight knitting needles, it's made with acrylic yarn in a worsted weight. What makes it so unique is the self-striping yarn it uses.
And it's so easy to do. If you can knit, you can make this knitted cowl. The only other techniques you'll need to know are how to M1 and how to slip, knit, pass (SKP). That's it.
If you've ever wondered what to do with your scrap yarn, this beginner knit cowl pattern is perfect for you.
To knit this cowl you'll need to know how to work with circular needles, knit in the round, and the provisional cast on method. Knit with DK weight yarn or Light Worsted weight yarn, this scrap yarn project uses 10 different colors. Each color stripe ranges from 28 yards to 48 yards of each color.
Learn More in Our Guide to Circular Knitting Needles
As this is an easy knitting project for beginners, this pattern is only in written form.
If you're looking for a Knit and Purl Stitch Pattern for Beginners, then you've found it. It's knit with two balls of Caron Simply Soft Tweeds on size U.S. 8 (5 mm) knitting needles.
There are no increases or decreases to learn, no knitting techniques beyond the basics. You'll only need to know how to knit in the round, which makes it a great circular knitting pattern for beginners.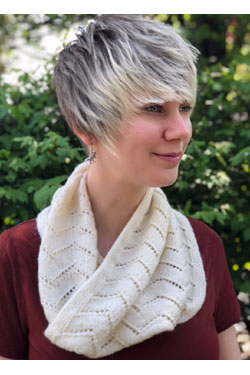 Light and delicate, this easy lace cowl knitting pattern makes the perfect everyday accessory. Knit in the round, it requires a single hank of yarn in luxurious merino cashmere.
You'll need to know how to knit in the round, knit two together (K2tog), and Slip-slip-knit (SSK). So easy. Keep it for yourself or surprise someone you love with this beautiful hand knitted gift.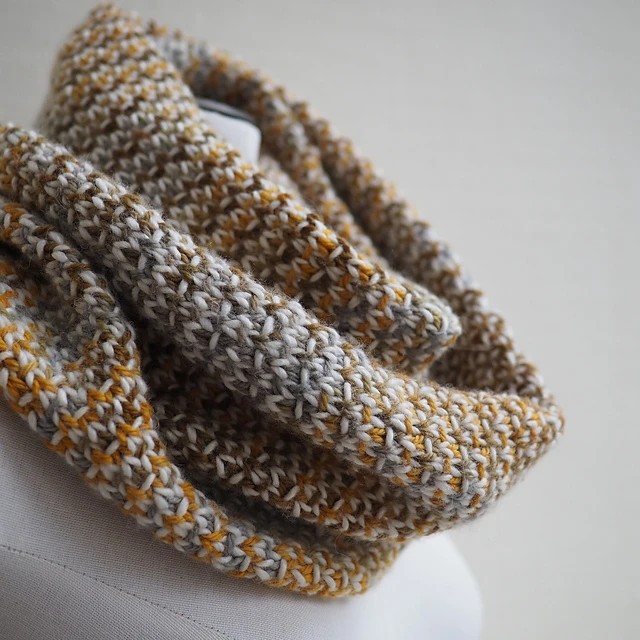 If you've ever wanted to try slip stitch knitting, this cowl knitting pattern is perfect for you.
This pattern is not knit in the round so it is perfect for beginners. Using DK weight or Aran weight yarn, you can make it short, long, or use the pattern to knit up a scarf instead. Depending on your project, you'll need from 110 yards to 220 yards of yarn.
The free knitting pattern also includes helpful tips on gauge, project suggestions, yarn choices, and more. And with a rating of 4.9 out of 5 stars on Ravelry.com from knitters who loved the pattern, you can't go wrong.
Learn More About Slip Stitch Knitting
Most circular knitting patterns remind you to make sure your stitches aren't twisted when you join the round. Not this one. This Mobius Cowl knitting pattern does the opposite.
Knit with Bernat Roving bulky yarn in a lovely wool-blend, this oversized cowl will knit up quick. To make one of your own, you'll need to know how to knit one below (K1B) and purl one below (P1B).
Looking for an all-in-one cowl and hat? This hooded cowl knitting pattern is the perfect thing to knit.
To knit this you'll need to know how to knit flat AND in the round. You'll also need to know how to SSK, M1, and K2TOG, beyond knitting and purling. As far as knitting notions, you'll want to use a couple of stitch markers.
It uses a 80/20 blend of alpaca yarn and acrylic and calls for size U.S. 9 circular knitting needles, or whatever is needed to make gauge. And since it's made in a bulky weight yarn, you'll finish in no time.
So what are you waiting for? Get this free hooded cowl knitting pattern now.
Learn How to Knit a Gauge Swatch in the Round
I love a good reversible cowl knitting pattern, don't you? Knit in an easy 1 x 1 rib knitting pattern in super bulky yarn, this oversized cowl will knit up fast.
It's easy knitting for beginners, too, with only a knit one, purl one pattern to follow. You'll only need to know how to knit in the round.
If you love to knit and binge on Netflix, this free knit cowl pattern on Ravelry is perfect for you. But you don't have to stay home to make it. Why not make it your next travel knitting project?
It's designed for worsted weight yarn, but you can knit it using any yarn you choose. The knitting instructions come with details on how to customize this cowl to your preference. So if you want to double the length and turn it into an easy knit infinity scarf, you can.
Don't you just love knitting rib patterns? I do. They're easy enough to knit without having to give your complete attention to. Perfect for Netflix and chill.
Learn more Knitting slang in our Knitter's Knitcabulary.
Here's a super simple lightweight cowl that won't skimp on warmth. While it is a bulky weight yarn (5), it won't take away from the fashion either.
Made with Viento from Plymouth yarn, it's a silky blend of alpaca wool and bamboo viscose. In other words, all the beauty and drape without the weight.
Using the mistake rib stitch and straight needles, the pattern is a simple one row repeat. Alternating two stitches, knits and purls, just knit to your desired length then seam it together.
Maybe you're looking for a knitted scarf pattern using bulky yarn. No problem. You could easily modify this written pattern into a mistake rib scarf. All you have to do is eliminate seaming the ends.
Sometimes yarn and a knitting stitch pattern collide and make something absolutely amazing. Take this herringbone knitting pattern and combine it with Qing Fibre fingering weight yarn, for example. The result is this moody color fading cowl that has all the feels.
Want to learn the herringbone knit stitch? You can find a great knitting tutorial here. It's simpler than it looks. Give it a try.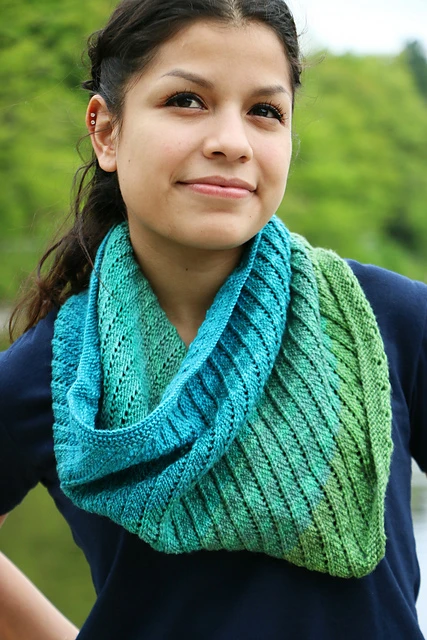 The colors in this gradient cowl, in combination with the knitting pattern, make this knitted fabric so mesmerizing. Knit with colors from a Mini Skein Pack from Wonderland Yarns, the hand dyed yarn really lends itself to the stitches.
You'll need to know how to knit, purl, knit two together (K2tog), yarn over (YO), and knit in the round. This project makes for an easy knitting patterns for beginners.
If you're looking to practice your color knitting, this is great pattern to start with. This 2 color cowl knitting pattern is not only beautiful but is a reversible cowl, too. Doubled up or worn long as an infinity scarf, it will keep you lovely and warm. Knit with Rozetti Yarns Alaska, it is a blend of acrylic, alpaca, and wool, and uses two balls of yarn in two colors.
An interesting detail for this knitting pattern is that it is knit as a tube in the round. This means you'll need to knit in the round but you'll also need to finish off the ends by either sewing or grafting. Make sure you read through the full pattern before starting your project.
Overall, it's an easy infinity scarf knitting pattern. Try it yourself.
Love stranded knitting? Then this modern Fair Isle cowl pattern is a great project to knit.
Using Red Heart Fair Isle yarn, this beginner knit cowl pattern is stranded knitting at its simplest. The self-striping yarn does all the work so you don't have to, which is great if you're new to Fair Isle knitting. The best part? Only a few ends to weave in. Hooray!
Knit in the round, this chunky knit cowl pattern has both charted and written instructions. They also recommend using locking stitch markers to keep track of the pattern.
Everything You Need to Know About Stitch Markers
This gorgeous green lace cowl has such amazing texture. It's knit with Bernat Premium aran weight yarn on size U.S. 7 (4.5 mm) knitting needles.
Learn more: Knitting Gauge and Yarn Gauge
This free intermediate knitting pattern is knit in the round. You'll also need to know knitting techniques such as how to increase with yarn overs (yo) and decrease with Slip-Slip-Knit-Pass (S2KP). Both techniques are easy to do. Otherwise, it's just knits and purls.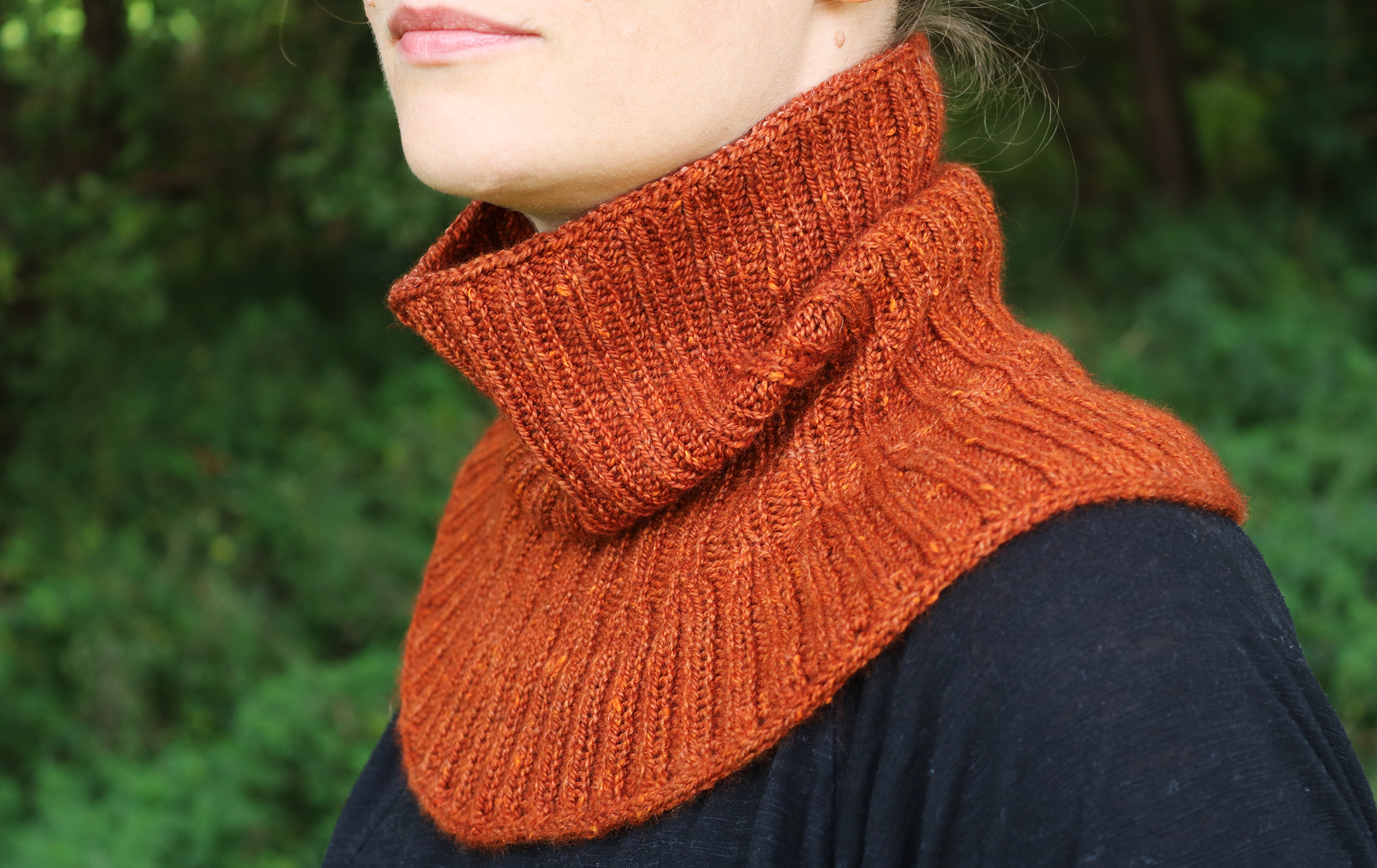 The Host Cowl is knit in the round from the bottom up. The designer used The Fibre Co.'s Acadia, a blend of alpaca and silk. So luxurious. The pattern requires 2 skeins or 100g of your favorite DK weight yarn.
The knitting techniques you'll need to know are knits, purls, and knitting decreases (K2TOG and SSK). If you haven't tried i-cord knitting, here's your chance.
This cowl uses an i-cord cast on and an i-cord bind off which are both really easy to do. The written pattern includes instructions on how to do both.
---
Looking for more knitting ideas for beginners? Here you go:
Easy Baby Blanket Knitting Patterns
Don't forget to follow us on Instagram and Pinterest for more knitting patterns and tips!