It's time to start hand knitting Halloween gifts!
In this collection, you'll find a variety of free Halloween knitting patterns. There are options for knitting accessories for cooler weather, knitted toys and stash busters, and fall gifts for house and home.
Just a quick note before we dive in. The patterns in this collection are not my own. If you find you have questions about a particular pattern, please contact the designer directly.
Ready to begin? Let's go!
Hand Knit Accessories for Halloween
In my experience, some of the best Halloween gifts are the hand knitted ones. The following knitting accessories are no exception. Here's an assortment of Halloween gift ideas your friends and family will love.
Candy Corn Hat
If you're looking for Halloween gift ideas for kids, this cute candy corn pixie hat is perfect for the holiday.
Knit in the round with the three traditional candy corn colors, it requires soft worsted weight yarn. Check your yarn stash.
You'll need to know how to change yarn colors in knitting, and how to decrease using knit two together (k2tog) to create the pixie hat peak.
This hand knitted hat pattern works up with circular needles or double pointed needles (DPNs), and a stitch marker. It includes written knitting instructions for three sizes for your littles.
Sweet Pumpkin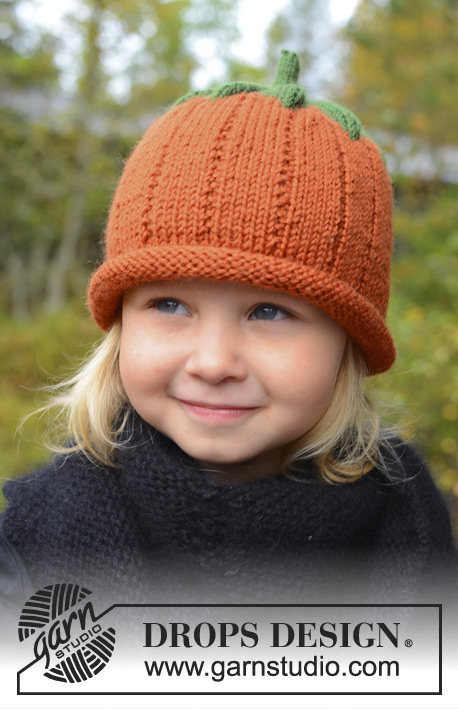 Here's a free pattern from Garn Studio Drops Design that would make a great Halloween gift for children. I mean, who doesn't love fall pumpkins?
This adorable knitted pumpkin hat pattern includes several sizes from baby to child. The knitting pattern recommends Drops Karisma yarn, a DK weight superwash wool yarn.
You'll need to know how to join in the round and stockinette stitch in the round using DPNs. The pattern includes partial written knitting instructions followed by a knitting chart.
Get started on this sweet pumpkin for the little ones in your life.
Weirwood Cowl
Looking for a great Halloween gift for adults? Even if you're not a Game of Thrones fan, you'll love this Game of Thrones inspired weirwood tree colorwork cowl.
Designed by Andrea Krüß-Anders, this hand knitted cowl pattern works up with two strands of sock yarn/fingering yarn. It includes a simple 2x2 rib stitch knitting (knits and purls) for both edges, and a stretchy cast on and bind off. To knit this free cowl knitting pattern with circular needles, you'll need to be able to read a knitting pattern as well as how to read a knitting color chart.
This men's knitted cowl would look great with hand dyed tonal yarn and would be an amazing hand knitted Halloween gift. Consider knitting this stranded colorwork pattern for that special someone in your life.
Knitted Skull Cap
Looking for Halloween gift ideas for him? This knit skull cap pattern is the perfect thing. But it doesn't have to be just for him. With three sizes to choose from, you can knit this skull cap beanie for your whole family.
This two color knitting pattern has a simple pattern motif that's perfect for beginners. It'll give you a chance to practice stranded colorwork and color dominance in your knitting. You'll also work on catching floats, and knitting with two colors.
Just choose your favorite medium weight yarn (worsted 4), grab your circular needles, and get started. You can't go wrong with this knitted skull hat.
Halloween Houndstooth Cowl
Here's a quick knitting project for gift giving. This knitted neck warmer with houndstooth design makes a great men's knitted cowl, too.
Using 100% bulky merino yarn and the slip stitch knitting technique, you can knit this cozy cowl and quick. You'll need to know how to knit, how to slip a stitch, and knit with two colors of yarn. Unlike other colorwork knitting patterns, slip stitches are really easy and a great knitting project for beginners.
X-Ray Gloves
Need that finishing touch for your skeleton costume, or need the ultimate Halloween gift idea? Check out these skeleton hand knit gloves. They have so much detail. They look just like a hand x-ray image.
These knitted gloves are an intermediate knit that requires stranded colorwork knitting. Each one is knit in the round, bottom up, in one piece. You can also knit flat, but it'll leave you more work in the end.
The really cool thing about this pattern is that it can be modified in three ways. You can make it a fingerless gloves knitting pattern, hand knit mittens, or stick with the knitted gloves pattern. Amazing! Just look at some of these finished projects from other knitters.
You'll need to be able to knit in the round with circular needles or with DPNs, and read a knitting color chart.
Don't have the recommended yarn? You can always do a yarn substitution. I've included one to try below using Drops Baby Merino Wool.
One last note regarding the pattern. It was originally a knit along (KAL) so it is published in 3 sections. The pattern is also written in both English and Finnish, so just look for your sections and begin.
Halloween Knit Hat
If you're big into DIY Halloween gifts, here's a fun colorwork knitting pattern that's perfect for all your favorite little ghouls.
Knit in the round with Caron Simply Soft Party yarn, this free pattern features stranded colorwork knitting. Using 5 total colors, it's complete with scary black cats, jack o'lanterns, white ghosts, and green skulls.
Aside from the rib knit brim, you'll need to read a knitting chart. For the crown, you'll need to know how to decrease in knitting using make ones (M1) and slip slip knits (ssk).
What you'll have when you're done is one unique Halloween gift!
The Skullkerchief
Here's another skull knitting pattern that would make an amazing knitting project and an even cooler Halloween gift!
This knit neck gaiter features a picot bind off and works up in contrasting colors of DK yarn. Use the recommended yarn or use a yarn substitute like Valley Yarns Superwash DK (link below),
To make this neck warmer knitting pattern, you'll need to know stranded colorwork knitting in the round and how to knit with two colors of yarn. You'll need stitch markers for this men's neckerchief as well.
The knitting pattern includes written instructions and a color knitting chart. Happy haunting!
Hand Knit Toys for Halloween
If you're a fan of small knitting projects or simply love small things to knit, then you'll love these adorable toy knitting patterns. They're the perfect stash busters and make some pretty cute Halloween gifts.
Check out these free knitting patterns for toys.
Candy Corn
These tiny knitted things are about the cutest candy corn decorations I've ever seen.
A free candy corn pattern from MochiMochiLand, each one uses small amounts of Cascade Heritage sock yarn. Buy yourself some new yarn or make it a stash buster project.
For this project, knitting gauge doesn't matter, but knitting tension does. You'll need to knit on the tighter side with this small knitting project.
You'll be so impressed with how fast you're knitting. These sweet DIY Halloween gifts will be flying off your tiny knitting needles!
Gus & Augustus Ghosts
Here's a pair of happy Halloween ghosts decorations that are just so adorably spooky.
Each knitted ghost works up in worsted weight wool yarn, like Paton's Classic Wool or Cascade 220, and is a great stash buster. These DIY Halloween ghosts are also a great introduction into knitted toy construction.
For this cute Halloween pattern you'll need double pointed needles (DPNs) and about 50 yards of knitting yarn. You also don't have to worry about your yarn tails as they'll stay hidden inside and seamed up. This fact alone makes this free Halloween pattern the perfect quick knit gift to make.
Frankenstein
If you're looking for gothic Halloween décor with just a touch of cute, this Frankenstein toy is just the thing.
To make this hand knitted Halloween toy you'll need DPNs and medium weight acrylic yarn (worsted weight). You can use solid colors or variegated yarn. As for knitting techniques, this Frankenstein is knit flat and in the round.
There are some basic knit increases and decreases in your knitting, along with picking up stitches. Then you'll bind off and assemble your cute Halloween Frankenstein.
This free toy knitting pattern would make a great Halloween gift for teachers or make your favorite adult a Halloween gift bag. They'll love it!
Hand Knit Halloween Decor
Get ready to cozy up to all the warm fall colors. Here are some simple knitting gift ideas for hand knitted decorations for your home. They're the perfect quick knit gifts for Halloween and fall.
Spicy Knit Pumpkins
I love fall scenes with pumpkins. Why not make your own fall pumpkin patch inside your home? These happy fall pumpkins are no muss, no fuss, too.
Knit with Red Heart acrylic yarn, this fall pumpkin pattern features a knit chevron stitch, which makes an interesting stripe knit fabric. You'll also find this small knitting project to be a great stash buster.
To make this free Halloween knitting pattern, you'll need DPNs to knit in the round, and worsted weight yarn. You'll find written knitting pattern instructions, which includes simple increases and decreases. Easy enough to do, you'll definitely want to make lots of these knitted decorations.
Get started on your fall pumpkin décor with this easy Halloween pumpkin pattern.
Pumpkin Potholders
If you're looking for easy home décor knitting ideas for Halloween knitting, or just looking for fall gift ideas, why not try this fall pumpkin knit potholder pattern?
This free knitted potholder pattern features wrap and turn short row knitting and uses DK weight cotton yarn. For knitting techniques, you'll need to know how to knit garter stitch, the knitted cast on, and a stretchy bind off.
It's an easy knitting project for gifts and makes some pretty (and functional) knitted potholders.
Halloween Knitting Spider Dishcloth
Need a quick knitting project gift? This Halloween spider is an easy knit and purl stitch pattern that any knitter could make.
The free knitted Halloween dishcloth pattern features a slip stitch edge with a garter stitch border. You'll create the embossed spider knit texture with easy knits and purls. Aside from that, you'll need to know how to cast on and how to bind off. This knitted dishcloth pattern couldn't be simpler.
Cotton makes the best yarn for knitting dishcloths. Check out our recommendation below so you can knit your diy Halloween spider.
So what are you waiting for? Get in the spirit with this Halloween spider. It's perfect for homemade Halloween gifts, too!
This knit purl pattern includes written knitting instructions and a knitting chart.
---
I hope you enjoyed these free knitting patterns for hand knitting Halloween gifts. If you're looking for more knitting inspiration, you can find our patterns page here. You'll find there's something for everyone.
---
Like what you see? Share your experience in a comment below. I'd love to hear from you. Also, don't forget to follow me on Instagram. See you there!
---